Activists carry out cleaning operations at Lake Ilopango
Global Embassy of Activists for Peace
Activists carry out cleaning operations at Lake Ilopango
World Environment Day
Como parte de la celebración del Día Mundial del Medio Ambiente, la Embajada Mundial de Activistas por la Paz (EMAP) en El Salvador presentó una charla educativa sobre las 5R, además, realizaron un operativo de limpieza en el Lago de Ilopango.
This activity was carried out with the purpose of educating the inhabitants of the sector and the students of the community school about the importance of protecting the environment and its natural resources.
The event began with a spiritual invocation led by representatives of the indigenous peoples of El Salvador through the Salvadoran Indigenous Coordinating Council (CCNIS) and the Indigenous Council of Central America (CICA).
Conformed the table of honor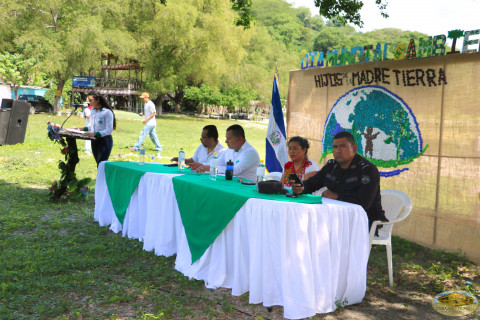 Representatives from various institutions preside over the table of honor
Later, the honor table was installed, with the participation of the director of the school center of the Joya Grande Canton, Jesus Pineda; the deputy director of the National Civil Police, Zenón Monterrosa; and the president of the National Indigenous Coordination Council, Betty Perez.
Also, the councilor Haber Cruz and Salvador Moreira, in charge of the military environmental unit of the Municipality of Santiago Texacuango, made an appearance.
A citizen commitment
The event was attended by 231 students, 8 teachers, 7 representatives of indigenous peoples and 33 Activists for Peace of El Salvador. The space was propitious to make an analysis on the importance for the environment that society assumes the commitment to care for and conserve it.
On the other hand, GEAP volunteers promoted the recognition of Mother Earth as a living being and together with Club R they taught the participants that with the practice of the 5 environmental values: Recycle, Reduce, Reuse, Reject and Re-educate, one can help the planet.
The cultural part was in charge of the students, who presented artistic acts and banners alluding to the celebration. The activity concluded with a cleaning day on the shores of Lake Ilopango in the area known as Joya Grande.
Details
Date:
access_time Monday, June 5, 2017